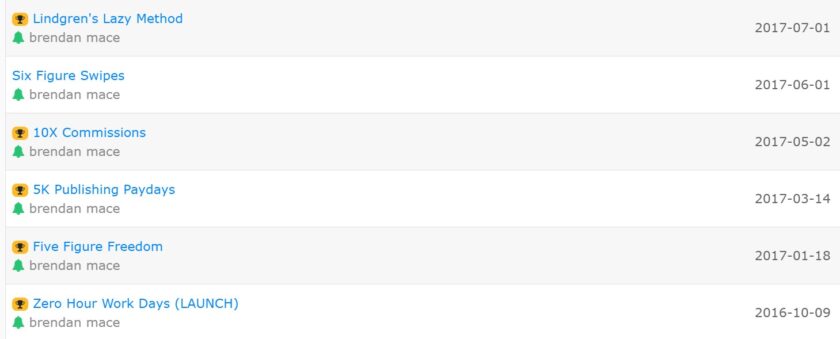 Brendan Mace review and questionable exposure for newbies
So we decide to write about this warrior plus vendors Brendan Mace review because of his questionable low rated product and his top email marketing affiliates promote his courses to newbies, so we want expose the truth for newbies.
What he does is bring small subject as big problem and create high converting video sales letter and add it to huge affiliate network like warrior plus market place.
So hungry affiliate who want just to make affiliate commission start to promote this low rated courses.
How Brendan Mace make his most money?
By creating top sales video he is sales the pipe dream on every information digital product he creates like every 3 weeks.and he has great reputation on warrior plus market place and there affiliate do not think twice and start to promote it using YouTube marketing and blogs and even using paid ads reviews, so we're always about saving newbies their hard earn money.
So Brendan Mace review and his money made from back end upsells and most importantly all he does is create low-end training with his vast knowledge about internet marketing and sell tools and recommend products to people through his training. That's how he make money not from his cheap low end 1w+ products!
Why are they low-end products at w+?
We respect his knowledge and warrior plus market place that allows him to list these information products they all about making money in digital market place that's all good but when we go back to his listed products most of them are same and different strategies that need tools and recourses and traffic to buy at back end.
So Brendan Mace review he offers low priced training in a way newbies feels to buy those recommendations. So why they have to pay for it 1st is theta new way? Probably not they all in YouTube free training, and we also have great course that share every thing you need to know for free. That how should happen but this guy selling this information with upsells and make money at back end.
W+ List of products by Brendan Mace
Since 2016 like every 2 to 3 weeks this guy create training and sell it with upsells price even start from 9 bucks and upsells top that up. and back end sales tools he makes most by poor newbies going to learn same thing they can find with little research on YouTube.
And also their so many great people offer those strategies for free… If someone offers it free and then recommend something on back end that's totally fine. We mean it transparency right but this guy charge money for his knowledge, and he package it very low price which should give away free all the time!
Here are info products and names since 2016
Brendan mace review – as by 2020 September
The "No List" Secret
2020-09-24
Formula 10K
2020-09-03
High Ticket Siphon
2020-08-07
Beast Funnels
2020-07-22
Shotoku System
2020-07-03
Print Monkey
2020-06-11
Set & Forget
2020-05-27
You Gen Bots
2020-05-13
1 Page Profits
2020-04-23
Aurora 2.0
2020-04-07
STOMPERRR
2020-03-10
TAKE IT
2020-02-18
Smash My Campaigns
2020-01-29
7 Min System
2020-01-15
ECLIPSE GIVEAWAY
2020-01-01
Xmas Super Bundle
2019-12-17
Super Funnels
2019-11-26
Invi$ible
2019-11-07
Equinox
2019-10-19
ATOMIC DFY
2019-09-29
Enigma
2019-09-11
Vid Chomper
2019-08-11
Kartel
2019-07-30
Eclipse
2019-07-09
Goodwill
2019-06-11
Aurora
2019-05-25
STEALTHD
2019-05-03
Boomerang Buddy
2019-04-19
Cash Magnets
2019-03-29
Profit Maximizers
2019-03-09
Octane
2019-02-23
The Secret Weapon
2019-01-03
0 to 100 in 24 Hrs
2018-11-23
Bang Bang Profits
2018-11-16
The Fuego Breakout
2018-10-10
Urgency Suites Pro
2018-09-20
The Profit Factory
2018-08-18
The LOST CODE
2018-08-10
El Bandito
2018-07-14
Fuego Multiplier
2018-06-17
The Clones
2018-04-17
Incognito
2018-03-13
The Banger Method
2018-02-16
Raiken
2017-12-12
Passivly
2017-11-05
Ignition
2017-10-13
The Awakening
2017-08-27
Printly
2017-07-10
Project Profit Academy
2017-07-08
Lindgren's Lazy Method
2017-07-01
Six Figure Swipes
2017-06-01
10X Commissions
2017-05-02
5K Publishing Paydays
2017-03-14
Five Figure Freedom
2017-01-18
Zero Hour Work Days (LAUNCH)
2016-10-09
Source Warrior+Plus market place listing
Conclusion
Not recommend – low end
Brendan Mace review:We do not recommend his information products. You can find all them from free resources like YouTube and some great programs and other digital marketers give away free. We feel like w+ market place control these kinds of vendors big time.
If you know his or have concerns about this review please write down on comment we will add accordingly.
You may like read,